A few years ago, Evan and my Dad had showed up in Baja, Mexico and surprised me on the beach kitesurfing. They'd driven for four days non-stop. It was time to get them back.
The Surprise
On January 2, 2017 I told my Dad I couldn't afford to come to Vietnam. Again. He was spending a second winter season there and had amassed a solid crew of wind chasing friends and he really wanted to share it with his kids.
I had just finished the final slog at Quest University, was riding the last of my savings and was planning on moving to New Zealand with Renée (that story comes next) where we'd immediately start working and chase sunshine.
As far as anyone knew, I was flying to New Zealand in February. So, on January 2nd, bags piled into a taxi full of my kitesurf gear and all of my younger brothers (he was in Northern Vietnam exploring by motor bike and was making his way south as kid-two in the pincer movement) I made my move. The taxi drove past a guy jack hammering ice off the Vancouver city streets and I boarded a plane to Vietnam. I left Renée behind. She was taking a Greyhound bus back to Kamloops for two weeks of family time before flying down to New Zealand on her own to spend a month travelling before I met her mid-February. We moved out of our apartment the same day.
After a plane ride from hell with a demonic toddler drowning out the hum of the jet engines and my cranked headphones with 12 hours of screaming I landed in Taipei, tied a towel around my eyes and lay in a corridor in a dead airport unable to sleep for eight hours. With 180 pounds of gear inside a bag a whale could reside in, and no sleep for 48 hours I then landed in Ho Chi Minh City.
You've been there right? Exhausted, feeling like you've slid through butter, looking out at the clamouring streets and gleeful taxi drivers from within the last line of airport doors? And then the heat, the smell, and your incompetence to deal with your situation after sitting like a human tetris block in a cramped plane seat for the better part of days all hit you simultaneously.
Yeah.
It was a days wait and $9 to bus. So $100 and 4 hours later I was rolling into Mue Ne with the air conditioning cranked, head drooping against the seatbelt of a Toyota Hilux taxi with my bags bouncing around in the back. Weirdly the maximum speed on the highways is ~ 60km/hr and people like to pump the accelerator. Not peeing at the airport was a mistake.
Mue Ne was a gamble. If you know my Dad, you know you can more reliably find a schizophrenic hummingbird. Vietnam's big. I knew he had a home base in Mue Ne, but also spent about half his time two hours north in Phan Rang. He'd just been in Delat. And before that he spent two weeks in Ho Chi Minh City with a population 8.5 million.
I knew the name of the place he stayed at in Mue Ne, but not how to spell it. I didn't know the address. The taxi driver had never heard of it.
Somehow, against the backdrop of the drivers raised eyebrows, we found it. I got a room at Nhat Thi's and explained I was surprising my dad which they thought was hilarious, and as luck would have it, he was not there, but was in Mue Ne. Somewhere...
A couple hours later I was playing covert ops across the street at a seafood shack with a corrugated tin roof and smokey charcoal bbq when I saw him getting escorted by the guy I tried to get to keep the secret. The guy was pointing and laughing, I was ducking beneath a table, and Dad was looking confused. Apparently something got lost in translation.
The gig was up so I got up from behind the cement block wall and walked over to the other side of the street, noisy scooters and honking taxis zooming between us.
"Hi dad!"
He looked at me like I was a ghost and stood there shaking his head making disbelieving noises and bending over to touch his toes over and over again. I'd never seen anything like it. So worth it!
After settling into Mue Ne, offloading some kite gear to a grateful Evan (to the back drop of Dad who was incredulous that Evan had known I was coming the whole time and hadn't told him), I started to learn what Vietnam was about.
Dad rented a little 2 stroke semi-automatic scooter for $90/month for me and I found a place to stay for a month and a half of time spent kiting, hosted by kind locals and eating good food on the cheap.
Kitesurfing in Vietnam
Mue Ne is a tourist strip made up largely of Russian visitors, but is also frequented as a hot spot for Vietnamese. It exists between the large city of Phan Thiet a half hour west and a fishing town to the east.
Kitesurfing happens in Mue Ne Bay and at Malibu beach and everything is accessed by scooter unless you're paying to stay in a resort on the beach. Great kiting can also be had at Phi's spot in Phan Rang, and if you're into going off the radar, 100km by boat out on Phú Quy Island where it can blow 40 knots (75km/hr) every day for months.
Mue Ne Bay: Mue Ne Bay is where most people kite. You can ride the wind swell there or use it as a launch point to go on epic downwinders to Phan Thiet (12km weaving down little point breaks, past resorts, farm fields and coconut trees, through fishing nets and past fishermen's homes and the main port of Phan Thiet -the most "out there" feeling kiteboarding downwinder I've ever done), and then walk barefoot into Phan Thiet with your gear, bundle into a taxi and go back to Mue Ne.
Malibu: Malibu beach seems to be mostly Russian kiters. It's consistently a bit windier than Mue Ne bay, where the better waves are and it's the place to go if you want to get absolutely crushed and smeared along the sandy bottom by heavy shore break. I mainly went here to get squished, ride waves and practice breathing salt water like a fish.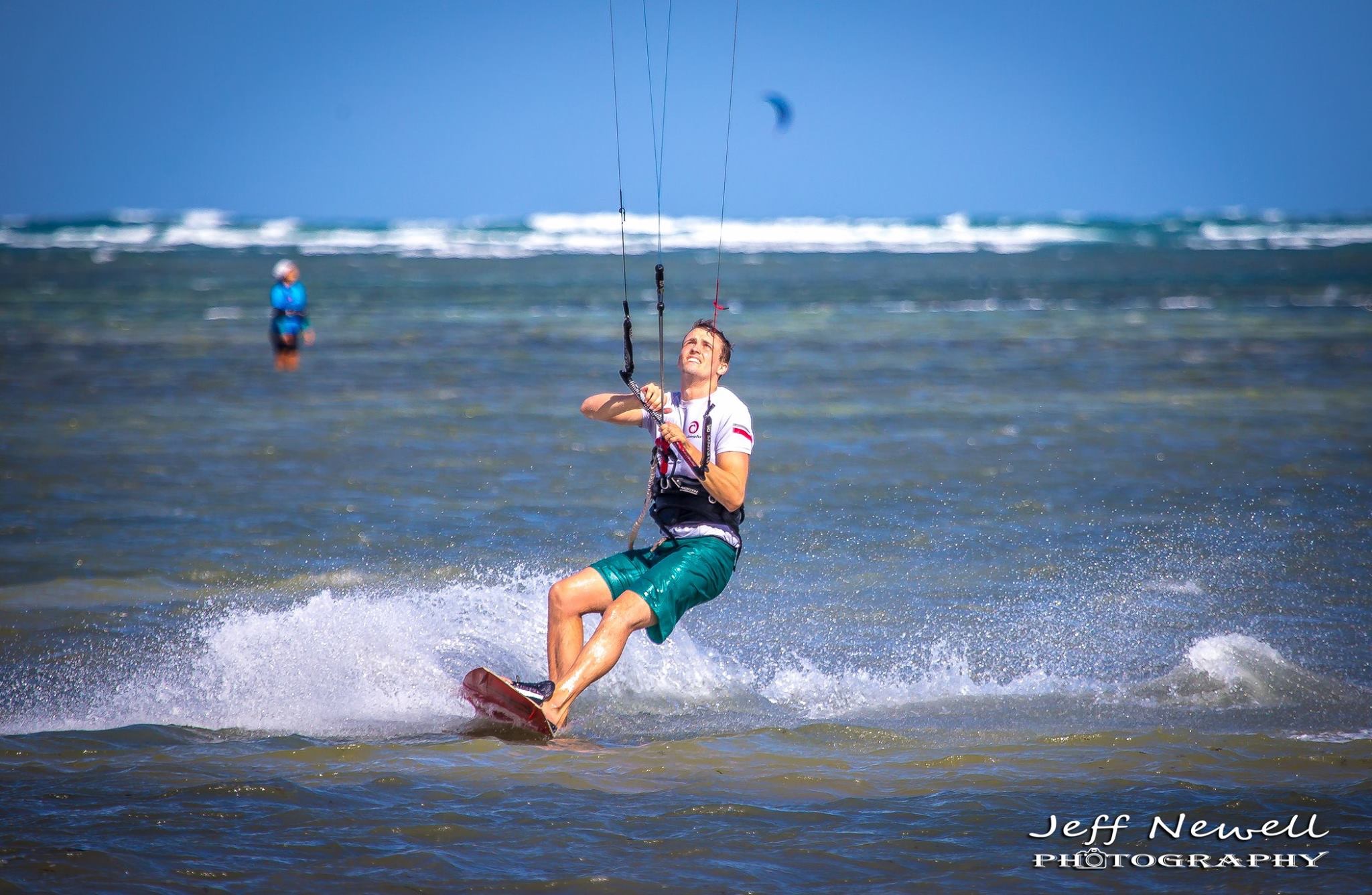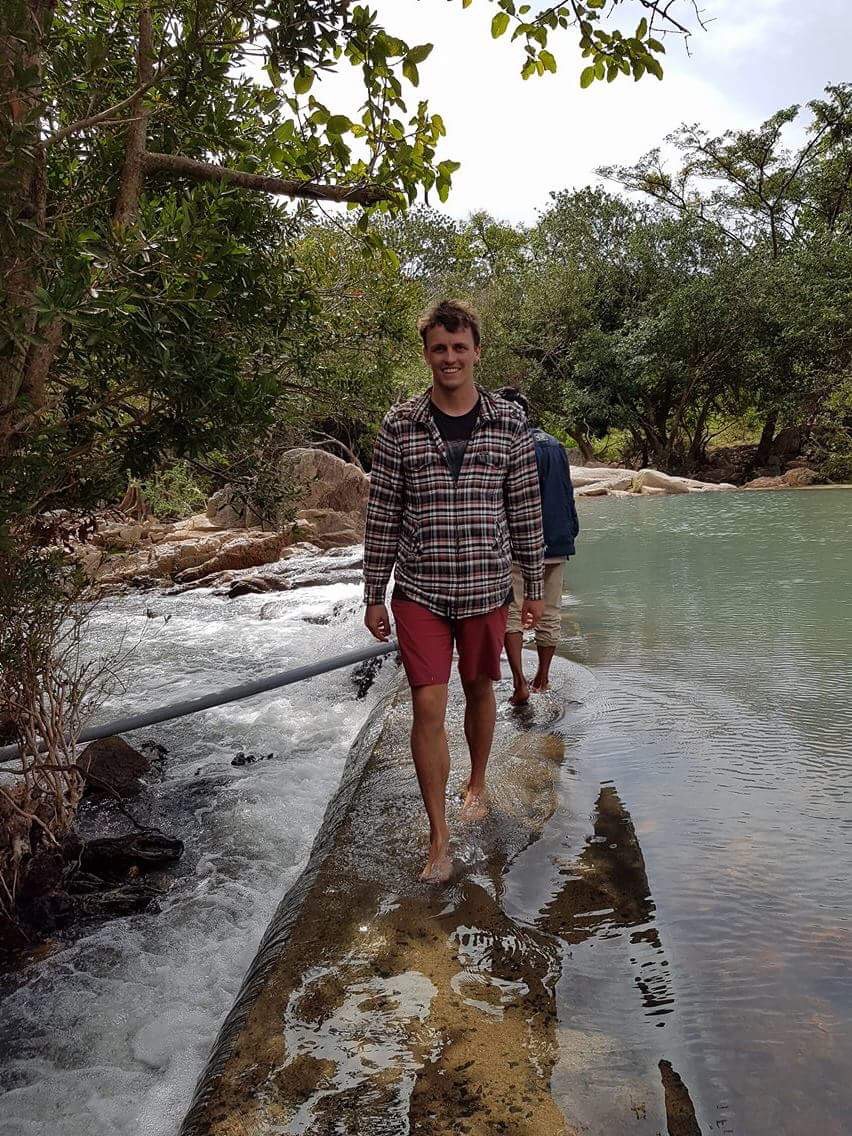 Phi's Spot, Phan Rang: Phi's spot in Phan Rang has a cool thing going on. Phi is a local absolute shredder who capitalizes on the fact that two hours up the coast Phan Rang is usually windier and blows when it's dead in Mue Ne (a 5m kite gets used here, a lot). Phi runs bus tours up to the spot and with the help of some great characters they've made it into a tailored kite zone. The setup is about 800 meters of tidal flat water lagoon bordered by a low angle reef. The reef creates a perfect spot to learn to ride waves as you can pick and choose the size of the waves you're after, from big and clean, to small re-breakers. And you can easily outrun them all and run scared back into the lagoon. It's also not uncommon to watch someone build up speed using the lagoon as a runway to boost off the second set of waves like a kicker sending themselves flying up into the air.
In addition, a downwinder unfriendly for beginners can be done by driving several kilometres up the coast in a van, unloading and kiting back to Phi's spot. This usually happens when the tide is out in the lagoon. People kite back down a rugged granite boulder strewn coastline with some great beach breaks for a couple hours and then play in the wave break outside the reef that borders the lagoon. Kiters patiently wait for the tide to rise enough to surf over the reef and get back into the lagoon, and thus get back to shore. I did a downwinder here and remembered how to get scared. Should've been on a 5m kite and a twin tip, but instead was on a 7m kite (too big!) and a surfboard (too floaty for that much kite!) and had the interesting experience of parking my kite straight downwind and letting it tow me like a ski boat down the face of steep, very large swell all the way back to Phi's. If you kite, you can relate to the oddity of getting pulled straight downwind without having to move your kite at all because it's so lit...
Phan Rang is a big city with effectively no foreign tourism and a lot of aquaculture. It's a several hour scooter ride from Mue Ne (usually feels like an epic with all the bags strapped to your little bike and cruising with a posse) and you pass epic coastline -think Joshua Tree meets Baja coastline.
Driving back to Mue Ne on the bikes with an 80km/hr side/tail wind was a lesson in getting blown across lanes I won't soon forget.
Phu Quy: Phu Quy is an island 100km off the coast of Vietnam in the South China Seas, accessed by 'slow' or 'fast' ferry. It's undeveloped for tourism and kiting, but it's way windier than any of the afore mentioned spots (stories from a guy who rode a 5m kite there 90 days in a row). You're likely to be the only non local on the island. I didn't make it out here, as you need a permit and the timing didn't work out, but Evan and Dad did and they said it was a really unique spot.
Next?
After a pretty hilarious visit with only one near shanking by screw driver, two kite-mares, 4 kites 1 board 1 harness and 1 whale bag left behind, 4 nights in a tent surrounded by sheep, 1 hotel ceramic broken by a kite, 5 days wandering the streets of Saigon, one birthday one wedding and one mocha martini in a heli bar it was off to New Zealand to meet up with Renée and get a job!